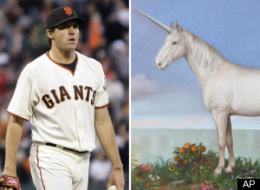 Tonight Giants pitcher Barry Zito was as magical as the unicorns that he claims to keep in a stable.
#RallyZito was trending on Twitter all day–not just in San Francisco, but worldwide. It made an odd kind of sense that Giants fans would turn to the micro-blogging site to will their team to victory. After all, it's only about a 15-minute walk from Twitter's HQ to AT&T Park, where the Giants play ball. Giants fans understand this social networking thing.
And right now, all of those thousands of hashtags seem to have worked. Barry Zito, the one that all of those hashtags were directed towards, took the mound in St. Louis and won a do-or-die game five of the National League Championship Series. Zito has never lived up to expectations since signing a big contract with the Giants, but tonight he defied them.
All of those tweets, memes and changed profile pics may have had little real effect on the outcome of this game, but it's still pretty amazing that Giants fans could impact the 50 million tweets that are posted on a daily basis to keep their virtual rally going all day long (and probably into tomorrow). St. Louis was on the verge of going into the World Series if they won tonight, but only a smattering of their players trended at all, and then it was only fleeting.
Cardinals starter Lance Lynn matched Zito's shutout performance—at least for the first three innings—but St. Louis fans didn't take to their laptops and Smartphones the way that Giants fans did for Zito.
Of course some Giants fans experienced some angry tweets from Cardinals fans over this whole thing, and that's really to be expected. I'm sure that Cardinals fans have encountered more than a few obnoxious SF fans in 148 characters or less. But the Cardinals fan tweeting has seemed to be nothing but this kind of narrowcasting bordering on trolling.
Giants fans embraced the full potential of the medium and created a mini-movement out of it. Through the #RallyZito hashtag, local Giants fans connected with expat San Franciscans. No matter where they were physically, they had their moment of bonding over Zito's amazing outing.
The Cardinals may still win this thing. Those red birds have been pretty tough this post season, but they're going to have to go to San Francisco to do it where they'll be only two miles from Twitter's HQ.